The content on this website may contain affiliate links or sponsored content. This means we earn money from brands when readers click through, purchase, or sign up through certain links. Clicking the links won't result in any additional cost to you, but it will support our blog. Thanks!
In this article on the ins and outs of personal and business budgeting, I am pleased to welcome guest writer Anthea Austin from Clear Margin Consulting!
Anthea is an accountant, bookkeeper and outsource CFO located in Vancouver, BC, Canada. She works with small businesses to help them truly understand how their business is performing and what they can be doing differently. Anthea has over 8+ years of experience working with some of North America's most recognizable brands such as Lululemon and international experience in her native Australia.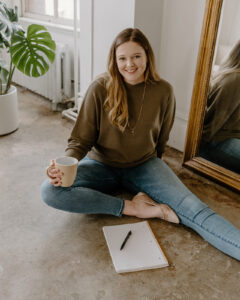 She launched her own podcast, Financial Conversations, in October 2021. Here Anthea answers business owners' questions to help them along their entrepreneurial journey. Check out her website, Instagram and LinkedIn to learn more about her.
Let's dive in to learn more about business and personal budgeting: 
Budgeting for your personal life and business can be time consuming, but thankfully they share many similarities. It's easy when you start a business to forget about budgeting for your personal life as your business seems like the most important thing in the world. In reality, both need to be given attention as one has a high impact on the other. For example, if you focus too much on your business finances, you might not realize that you don't have enough to go on an
upcoming vacation. To avoid that from happening, let's discuss the similarities and differences between business and personal budgeting.
How to Forecast Business Revenue & Pay Yourself:
To begin to budget for your business, you need to focus on forecasting revenue. It's very important to know how much planned revenue (booked clients) and forecasted revenue (sales goals) you have. By doing so, you will know if you are able to invest into your business, make a hire, and reach your goals. Contrasting this with your personal budget income, which will always be fixed. Ideally, the amount you withdraw from your business and take as a personal salary shouldn't differentiate too much month to month. Make sure you schedule a time in your calendar at least once a month to review how you are doing in both camps.
How to Plan for your Business and Personal Future:
Both your personal life and business benefit from planning for the future. There can always be unexpected expenses, but you can limit the impact on your bottom line by planning ahead.
For your business you can:
1. Invest in systems, tools and people that will help you increase your revenue,
2. Determine how much additional revenue you need to reach your goals. Download my free budget template here to help you get started!
For your personal budget this could be:
1. Contributing to a RRSP (up to 18% of your income or under $27,500, whichever is lower) / TFSA (maximum $6000 per year).
2. Purchasing a house. Listen to my podcast on how to plan for this as an entrepreneur here.
How to Save Money in Business:
In both business and personal budgeting, we need to be conscious of putting money away or creating sinking funds, which are saving for a specific purpose such as an upcoming large expense. In your business it's important to earmark money for taxes. In your personal life this
could be saving for a summer vacation, or saving for Christmas … bring on the Christmas baking!
Creating an Emergency Fund:
Saving money can have various specific purposes as mentioned above. However, it's also important to create a cash buffer or emergency fund for those unexpected times in your life and business. This can be created either in your business, or in your personal budget. I recommend having both, especially if you have fixed monthly expenses such as employees or office rent, you will want to ensure you have enough set aside to cover these aspects. In your personal life you will also have those non negotiable monthly bills.
Becoming a Budgeting Pro:
Budgeting for your personal life and business takes practice and consistency to master. Once you set aside a couple hours to review your budget every month, it can become a fun and profitable habit to have. By focusing on both areas, your business and personal finances can both be in good shape with less of a likelihood for trouble. As business owners with full personal lives, that helps us sleep soundly at night!
If you need any assistance with budgeting, please reach out to me, Anthea, at Clear Margin Consulting by emailing hello@clearmarginconsulting.com. My team and I would be happy to help you out!
Big thank you to our guest writer Anthea from Clear Margin Consulting! 
If you are looking for more budgeting content, check out the budgeting section on our blog!
About The Author