The content on this website may contain affiliate links or sponsored content. This means we earn money from brands when readers click through, purchase, or sign up through certain links. Clicking the links won't result in any additional cost to you, but it will support our blog. Thanks!
Buying a home as a primary residence is usually one of the biggest purchases Canadians will make in their lives. There are various ways you can learn how to invest in real estate in Canada, even if you can't afford a down payment. 
There are different options of investing for those who can afford a down payment, and investing options for those that want to invest in real estate with no down payment.
Lets dive into both!
Options That Require a Down Payment

Buy A Home (Primary Residence)
Of course we all know the modern dream to own your own home. For many people it is unobtainable since there is such high demand in real estate, edging housing prices higher and higher. Our record low mortgage rates are on the rise, inflation is at its highest point in 30 years, and the average house price in Canada is up 20% in the past year. Affordability is becoming more of a challenge for millennials and younger generations to be able to afford a home.
Saving a 20% down payment is hard enough – don't put yourself at a disadvantage by using a regular savings account that pays 0% interest. Utilizing a high interest savings account at Neo Financial where you will get a 2.25% interest rate. Much better than what a traditional bank gives, is a good way to save up for your down payment faster.
If you have the means to afford a down payment, and the grit to endure multiple offer presentations and bidding wars. You may be successful in finding a home to purchase. I went through this in 2020/21 and it was very stressful. Luckily we are now on the anniversary of one year in our first house as a family.
Not everyone has the ability to save up a full down payment. This can be a huge barrier to entry into the real estate market. So if you can't afford the full down payment required, are you just out of luck? Maybe not.
Co-Own a Home (Primary Residence)
A new company I found called Ourboro may have the solution – Co-ownership. They go in on the down payment with you to help you reach 20% down. It's not a loan – you don't pay any interest, but they are taking stake in the future value of the property when you sell. What's the catch? They believe people don't have "forever homes" anymore, but typically live in a home for around 10 years before selling.
If you decide to live in that home longer than 10 years, you buy out their share from them. Sell before 10 years, they get their share of the fair market value (loss or gain). It's an interesting approach that could help a lot more people get into home ownership.
Buy a Standard Rental Property
You may also consider buying a rental property as an option. You would need to come up with a down payment to purchase the house. If you have purchased a rental property, someone has to manage the tenants , the maintenance and the repairs.
Either you will act as a the landlord, or you can hire a property management company to do it for you. You either spend your time, or your money to manage the property properly, and that could cut into your profits from the rental.

Air B & B
You purchase a rental property with the sole intention of utilizing it as a short term rental/vacation rental through a site like Air B & B. The past few years a lot of Air B & B Hosts/Owners were hit hard due to the pandemic limiting travel, however, this may be turning around again and becoming more of a sustainable option.
Risks vs a standard rental are (other than a global pandemic), that you have un-booked nights or aren't able to book your property up enough to make a strong profit. Upkeep and cleaning are required after every guest, either on your own, or you hire a service to take care of it.
House Hacking
House hacking is a way you may be able to live rent free while others pay your mortgage for you. Sound too good to be true? Picture this. You find a great property that has a few rooms you can rent out while you also live in the property. You set the rental rates for your tenants/roommates and their rent payments cover the mortgage and bills.
You would need to be able to come up with the down payment to purchase the home. This can be a way to get into the housing market, and minimize your monthly costs allowing you to save and invest more money! You are essentially acting as a live-in landlord, and will need to manage the day-to-day issues of the home. If you don't mind living with others, this could be an option to consider.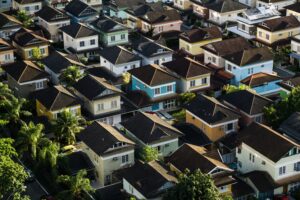 Investing in Real Estate With No Down Payment
OK, OK, if you came here because I said you can invest in real estate with no down payment, here are more options for you. There are a number of different ways that you can invest in the real estate market these days. The below are listed from lowest barrier to entry, to highest.
Crowd-funded real estate investing
Crowd-Funded investing is really interesting option with a super low barrier to entry. You can invest with as little as $1.00. A company called addy is using this method to make real estate investing as accessible as possible. They co-invest in real estate with their members. They have an annual membership fee of $25.00 and then to invest in any property they have, the minimum investment is just $1.00. They seem to have very clear terms and documents outlining how you make money with your investment (through rents or sale and value appreciation). 
REITS
If you prefer stocks and funds, you can still invest in real estate this way by investing in a REIT. A REIT is a Real Estate Investment Trust. Canadian REIT's invest in residential, industrial and commercial real estate. You can purchase a REIT from a specific company, or you can purchase a REIT ETF.
Review this post for an overview of what an ETF is. It is a good way to diversify your stock portfolio, by holding some real estate stocks or funds.
You can invest in REIT's through a platform like Wealthsimple which offers $0 Trades on Canadian stocks. If you open and fund a Personal account on Wealthsimple trade, you can receive the equivalent of 2 Free Stocks when you sign up here.
Invest With House Flippers
If you don't have the DIY skills, or the down payment to purchase a fixer upper yourself to flip, consider investing with a small flipping operation. House flipping has become a popular business, and flippers often need to raise money themselves to pay for materials, labour, and down payment costs. You make money typically by getting back your principal investment plus a portion of their profit. You can set up either a long-term or a deal-by-deal partnership arrangement with a house flipper.
Has this article has given you some ideas on how to invest in real estate with no down payment? We would love it if you share it with a friend who is interested in learning more!
Check the blog for more Investing & Personal Finance Content!