The content on this website may contain affiliate links or sponsored content. This means we earn money from brands when readers click through, purchase, or sign up through certain links. Clicking the links won't result in any additional cost to you, but it will support our blog. Thanks!
As Canadians we are very lucky there is an official parental leave policy that offers us some financial support to take time away from work to be with our babes. 
You may think you don't need to be financially funding maternity leave, because we get EI. I'm here to tell you, depending on your income, the EI may not be enough for you to maintain your standard of living and cover your expenses. Especially with added new expenses of diapers, formula, and baby supplies. 
Maybe you are from the US and need some financial support to take some time away from work. 
Whatever the case, I want to share with you how to plan for your own leave so you have flexibility to make decisions that work for you. This is how I am
able to take 4 months unpaid leave when my EI ends.
Back To The Beginning
We had a planned pregnancy.
This allowed us the time and ability to plan. I know that is not always the case for many individuals. 
Before I became pregnant we discussed how long a leave I might take, and how much money I would be earning during the leave. I calculated what budget shortfall it would leave us with to cover our bills and expenses. 
Initially I opted for a 12 month leave – registering for standard parental benefits from EI. I also requesting one month of vacation tagged on to the end from my employer for a total of 13 months.
Employer Benefits
As the birthing or non birthing parent, or even if you are adopting, many workplaces will offer a parental leave top up. Contact your HR department to inquiry on their policies. 
Topping up means your work will take a look at your salary, and what you are receiving from EI, then provide you with a sum which "tops up" your income to full, or a certain percent of your salary for a certain period. 
I am fortunate that my employer offered top up for 17 weeks to 95% of my salary, and I received Employment Insurance for 11 months. While my husband also took 8 weeks of parental leave with top up from his work and EI.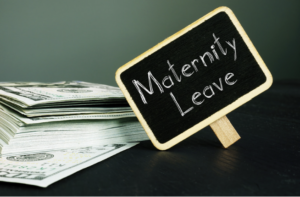 Set Your Mat Leave Goals
We wanted to maintain our same level of lifestyle and be prepared for increased baby related costs, so we calculated how much we would need above and beyond the top up and EI to be with baby and I for the first 8 weeks. 
One of our goals was for me to also to maintain some amount of regular investing, and keep up my
pension contributions
while I was on leave. 
We set a goal of $30,000 CAD. Everyone will have a different goal that will help them feel comfortable and prepared.
Funding Maternity Leave
My husband and I are fortunate to both make good incomes, so we were able to reach our goal of saving 30k in a sinking fund over the year or so prior to giving birth. We saved in a
High Interest Savings Account like NEO Money
(as of Nov 2023 at 3.75% )
We both contributed equally to our savings goal.
$30,000 is more than we needed, but here's why it's been a blessing:
I was unable to breast feed, so from 2 months we switched to sensitive formula which has not been cheap.
At 6 months into my leave, I decided to extend my mat leave from 13 months to 16 months. My EI was ending and I would not be getting paid for months. So instead of just using my fund to top me up, it became my sole income.
Since you cannot switch to extended leave from EI if you have already started standard leave, I could not get EI coverage for the final months of my extended leave. I had already received all I would receive by 12 months.
Having saved up a large amount of money  for funding maternity leave was a great  blessing, but all this was possible because of a few things:
We are debt-free other than mortgage
We had time to save up
We set our financial goal
We created a budget that would help us reach it.
We live in Canada, where it does not cost us anything to have a baby
I would not have had the option even to decide to take more time off if we didn't plan ahead and save up our Baby Fund!
If you need help reaching your goals, you can get a free financial goal planner printout by completing the form above to help you get started and
The Canadian Budget Planner
can help you set and keep within your budget!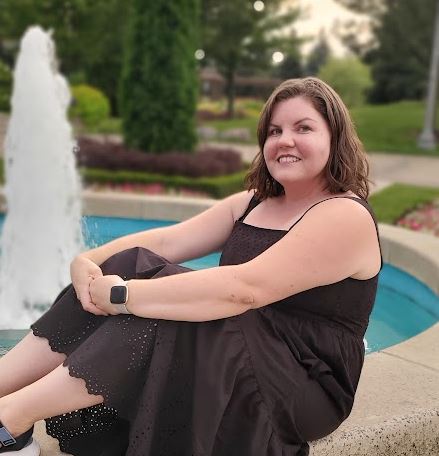 Jessica Morgan is the founder of canadianbudget.ca and a Millennial mom of one who has a burning obsession with all things personal finance.  Jessica has a BA in East Asian Studies from York University and a Masters in Business Administration from Toronto Metropolitan University. She is a career public sector employee with a Hybrid Pension, as well as an advocate for Canadian women to improve their personal finance knowledge.
About The Author