The content on this website may contain affiliate links or sponsored content. This means we earn money from brands when readers click through, purchase, or sign up through certain links. Clicking the links won't result in any additional cost to you, but it will support our blog. Thanks!
Manage money as a couple.
As a couple gets more serious, they need to decide how they will manage their money as a couple. Key triggers for this step are normally moving in together or getting married. There are three general styles on how couples can manage their money as a pair. No matter what method you choose, you want to ensure you have a strong budget to work from. 
The three methods to manage money as a couple
Working with a partner in managing money can be a challenge for someone who has only ever dealt with their own finances, but it is doable!  Let's go over three ways to manage your money as a couple; then you can choose the method that works best for you!
Separate
Joint
Combined
Managing Money Separately
This is exactly as it sounds. Each partner maintains their own accounts for checking, savings, investments, credit cards. Any joint bills – such as living expenses – are paid by one of the two partners. The other transfers their share of the bill to the paying partner. Alternatively, some bills can be assigned to one partner, and some to the other so shared costs balance out between them. No joint accounts are set up in this method, so each partner maintains their own financial independence and management of accounts. 
Managing Money As A Couple Jointly
When it comes to managing money as a couple, managing things jointly makes sense for a lot of couples,  especially for married couples with families. The assumption is that there is no "my money" and "your money", therefore all money is pooled into a joint account and becomes family money.  Couples who are fully joint may also share a credit card as well.  This may work well for military families, where one member is constantly deployed, or for families where one person handles all the financials for the whole family. 
Even in a fully joint arrangement, each partner can still have their own retirement (RRSP) and Tax Free Savings Accounts (TFSA).
Managing Money Combined
Personally, my husband and I use the combination approach. We each have our own chequing accounts that our paychecks are deposited into.  We each have a few individual High-Interest Savings Accounts (HISA) for short-term savings goals. 
In this method, we maintain our own RRSP and TFSA Investment Accounts where we are mostly invested in ETF's and index funds. If you are not investing yet,here are 5 reasons you should be investing as a Canadian woman.
HISA's are used for our joint savings, which we use for the following:
Joint investing
Saving for our daughter's future is really important for us, so we created a joint investment account for her future education.  An RESP – or Registered Education Savings Plan, allows parents and family members to invest and save for their children's college/university education from Birth. We use Wealthsimple Invest as the RESP provider, you can get your first 10k Managed for free at Wealthsimple by using this link. 
This works well for us as we can jointly contribute to our shared and family goals, while still having ownership and independence of our accounts.
We don't have any debts other than our mortgage, so we are more focused on saving and investing. If you have consumer debt, consider using the Debt Avalanche method to pay off your debt faster! 
If you are looking for a great Canadian High-Interest savings account, check out EQ Bank, and get one of the highest everyday interest rates on your savings by opening your account here.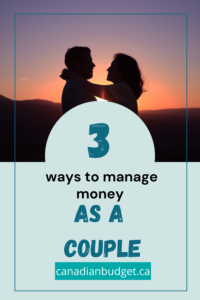 The three ways to manage money as a couple
Of these three, we chose the combined method. Here are the ways we make this method work for us:
Make sure we have an annual budget set to align our spending and expenses
Set out our savings goals in advance by writing out a financial goal plan for the next few years to tackle short, medium, and long-term goals and ensure they are within the budget.
Have a finance date once a month to update our joint net worth and make sure our plans are on track and deposits are being made.
Check in with each other if we want to make any large purchases.
Have full transparency on what we make, what we save, and what we owe. There are no secrets in our finances.
Would love to know what method you use to manage money as a couple and how it works for you and your partner! Comment below! 
Find more posts like this in the Finance & Investing section of our blog!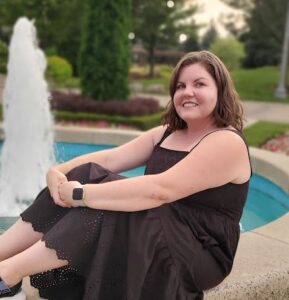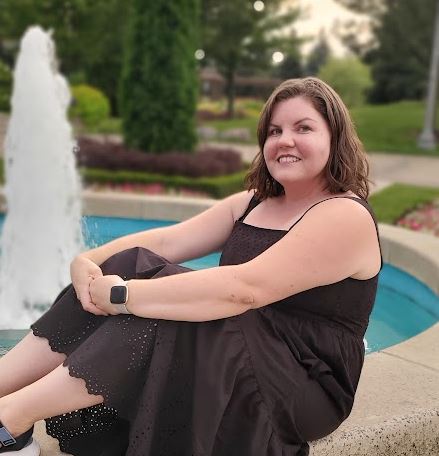 Jessica Morgan is the founder of canadianbudget.ca and a Millennial mom of one who has a burning obsession with all things personal finance.  Jessica has a BA in East Asian Studies from York University and a Masters in Business Administration from Toronto Metropolitan University. She is a career public sector employee with a Hybrid Pension, as well as an advocate for Canadian women to improve their personal finance knowledge.
About The Author