The content on this website may contain affiliate links or sponsored content. This means we earn money from brands when readers click through, purchase, or sign up through certain links. Clicking the links won't result in any additional cost to you, but it will support our blog. Thanks!
The By-Hand Budget for the Digital Spender
Are you a digital spender?
Someone who doesn't use cash unless absolutely necessary? A credit card point collector, or just someone who no longer wants to use cash and prefers debit or credit.
Have you ever wanted to have a printable budgeting system, but were frustrated that all the budget planners you could find were focused on using cash as the main method of spending?
I was looking for a new budget planner to use when I started my maternity leave. My income changed with my leave, and I really needed to drill down on my spending and budgeting, so I made the switch to paper based, or budgeting by-hand. 
After searching everywhere, I couldn't find a printable budget planner that suited my cashless spending style. All the printable budgets were based on the cash envelope system. For non-cash spenders, it just doesn't fit, so the Canadian Budget Planner was born to fill this gap. I believe it to be the first paper based budget for digital spenders.
The Canadian Budget Planner has been in the works for months now and it's ready to go! I am so excited to share with you a little bit about what you can find in the Canadian Budget Planner. 
By the way, you definitely do not have to be a Canadian to use this product,  it is universally applicable. 
You can buy it now or scroll down to learn more and get a sneak peek at a few of the documents!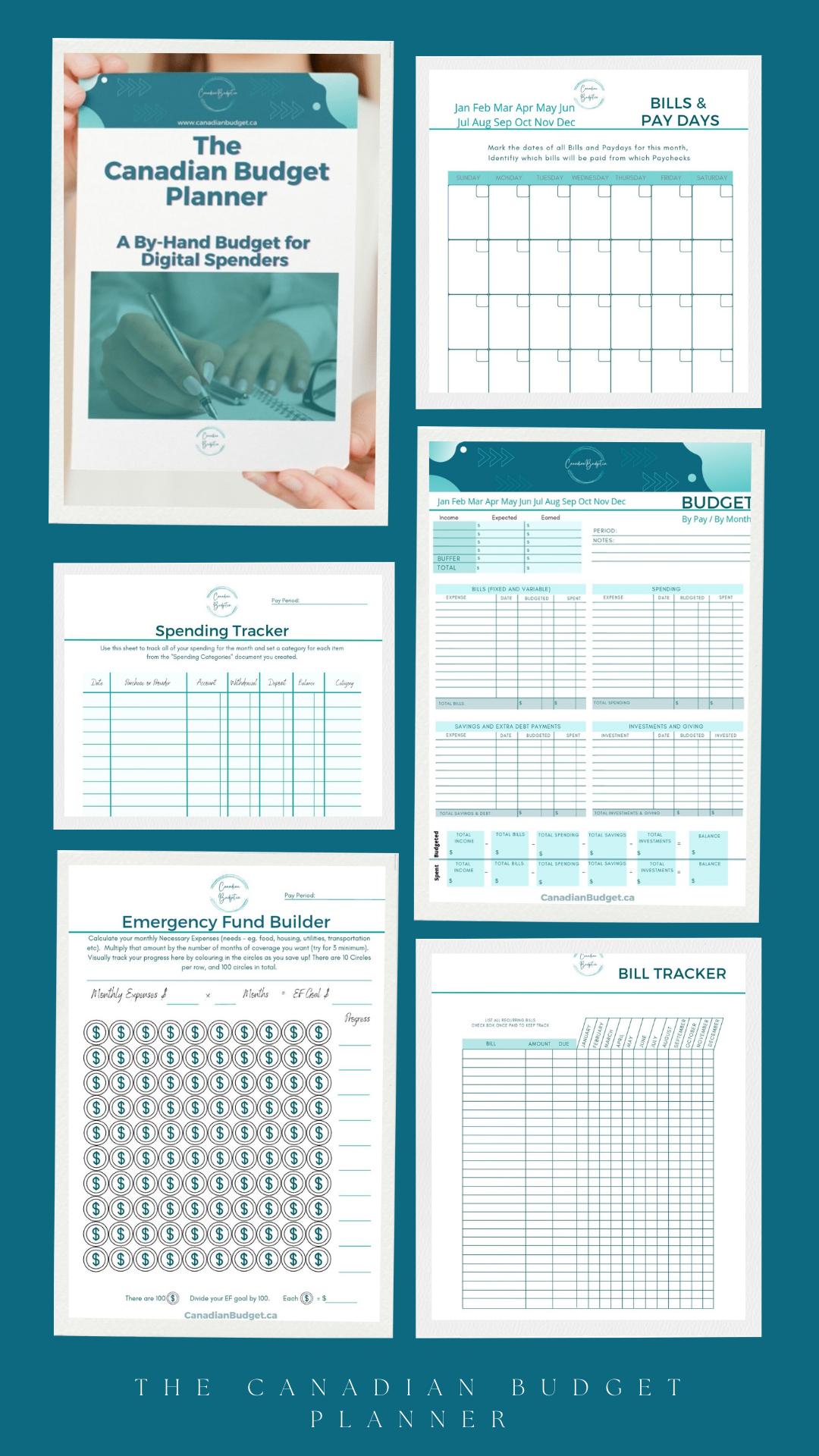 The Canadian Budget Planner is a financial management system to help you get out of debt, set and reach financial goals, plan for infrequent and unexpected expenses, Save for an emergency fund, Set a budget, track your spending, reflect and learn and more!
It includes 3 sections with an incredible 14 documents in total!
Section 1: Preparation Work & Annual Documents
Financial Goal Setter
Bill Tracker
Debt Tracker
Debt Payoff Planner
Infrequent Expenses
Emergency Fund Builder
Identifying Spending Categories
Section 2: Start of Month Documents
Bills & Pay Days Calendar
Core Budget
Spending Tracker
Category Tracker
Section 3: End of Month Documents
Results & Review
Debt Payoff Progression
Savings Tracker
Sounds interesting?
I'm so excited to launch this product, and I hope you are excited to learn more!
If you want to get started with your budgeting you can purchase here!
Tag us on social media @CanadianBudget and use the hashtag #CanadianBudgetPlanner We would love to see how you use the product to rock your own budget!
Read more like this from the Budgeting Section of the Blog.